In November, I had another opportunity to go out to Dubai. The main purpose was to attend The Digital Education Show Middle East, hosted by Terrapinn at The Conrad hotel. We were successful in showing schools how we make tracking the British Curriculum in the Middle East easy.
First of all, wow, what a hotel The Conrad is!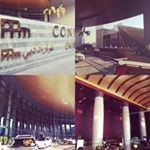 I wish we had stayed here. However, we stopped in the hotel over the road.
The conference was attended by over 400 people. There were 28 companies in the networking and exhibition area and the chance to hear talks from over 80 leaders in innovation. I had the opportunity to walk around and meet some of the other companies exhibiting, I met some interesting people doing some great things within the education sector in the Middle East.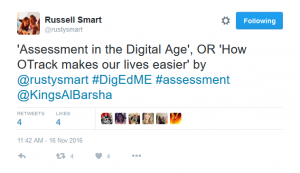 On the second day of the conference, Russell Smart from Kings' School Al Barsha did a talk on 'Assessment in the Digital Age' what he should have called it was 'How OTrack makes our lives easier'. He wowed the audience with how easy we make assessing without levels, from setting up the system for their specific tracking needs, to where they are now – using it in a school with over 40 classes! That is a lot of data.
From having constant support and in school training sessions available for current schools to having the ability for face-to-face demos with potential new schools. You can see here what all the fuss is about and how easy it is to start using OTrack! Tracking in 3 simple steps
If you would like more information, please browse the website or email us enquiries@optimumotrack.co.uk. Our online demos are FREE and only take up an hour of your time.